Krystol Waterstop Treatment is used in conjunction with Krystol Waterstop Grout and/or Krytonite, as part of the Krystol Waterstop System, wherever water penetration through static concrete-to-concrete joints is a concern, including construction joints.
Krystol Waterstop Treatment contains Krystol technology. When applied to concrete, Krystol chemically reacts with water and un-hydrated cement particles to form insoluble needle-shaped crystals that fill capillary pores and micro-cracks in the concrete and block the pathways for water and waterborne contaminants. Any moisture introduced over the lifespan of the concrete will initiate crystallization, ensuring permanent waterproofing protection.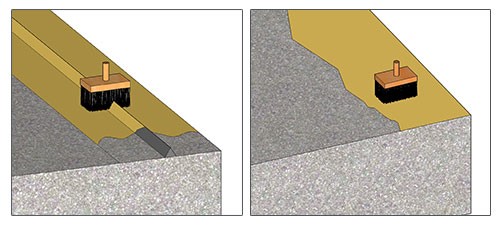 TYPICAL USES OF KRYSTOL WATERSTOP
Construction joints in concrete structures, including KIM Concrete
Static concrete-to-concrete joints where there is any concern regarding water penetration
Preplanned and unintended shotcrete cold joints
Crack control joint
FEATURES & BENEFITS OF KRYSTOL WATERSTOP TREATMENT
Easy to install
Provides a permanent waterstop treatment as part of the Krystol Waterstop System
Durable; resistant to rain and foot traffic once hardened
Easy to inspect; distinctive yellow color increases reliability and quality control
Krystol Waterstop Treatment™ Downloads
Got a Technical query?
Click here to get a callback