DPM Red is a three-layer, low density polyethylene membrane with a polypropylene reinforcing grid.
Benefits
Manufactured from virgin material, not recycled waste
High performance damp proof membrane
Robust jointing and sealing system
Single wound membrane with zero creases
Two colour membrane for on-site quality control
Complies with latest codes of practice as published by CIRIA and BRE
APPLICATIONS
Ground floor damp proof membrane
Applied to
Sand blinding
Suspended floors
Ground bearing slabs
TYPICAL USES
DPM Red is typically used as a low density, polyethylene damp proof membrane. The installed product protects the structure against moisture and radon from the ground. The product is suitable for use above or below ground bearing reinforced concrete slabs, and above suspended beam and block floors or precast concrete slabs.
DURABILITY
Subject to normal conditions of use DPM Red will provide an effective damp proof membrane and vapour/radon barrier during the lifetime of the building.
SPECIFICATION
J40 Flexible sheet waterproofing / damp proofing Clause 297 Reinforced high performance polyethylene damp proofing. Please consult RIW for further information
PERFORMANCE & COMPOSITION
Form
Loose laid composite sheet
Colour
Red / Black
Overall thickness
2000g / 0.5mm
Roll size
3m wide x 50m long*
Weight
275g/m2 = 41.25 kg / roll
Laps
150mm

Tensile strength MD

EN 12311-1 CD

500N / 50mm

470N / 50mm

Elongation MD

EN12311-1 CD

15%

20%

Nail tear resistance MD

EN 12311 -1 CD

400N

400N

Radon permeability
1.5 x 10-11
The above performance figures are typical values and should not be considered a product specification. * Other roll sizes are available.
ANCILLARY PRODUCTS
RIW produce a range of ancillary products for use with DPM Red which include:
Seal Tape - double-sided self-adhesive butyl tape for sealing between overlaps in the membrane.
Lap Tape - single-sided self-adhesive PVC tape for sealing edges of lapped product.
Preformed pipe collars - flexible collar for sealing around pipe penetrations.
Protection Board – 3mm bitumen board, to prevent damage to membrane after installation.
Sheetseal 9000 DPC - a range of high performance polymeric DPCs and cavity trays for building into masonry. See also our range of below ground waterproofing products for lift pits, basements, etc
CONSTRUCTION
GENERAL
All construction should conform with the Building Regulations, Codes of Practice and British Standards in current use at the time the building is being constructed.
PREPARATION
The membrane should be laid on a smooth surface, free from voids, hollows and objects which may damage the membrane. If used below a ground bearing slab, the product may be laid on a sand blinding.
APPLICATION
The completed damp proofing system must cover the entire footprint of the building. DPM Red should be unrolled onto the prepared surface, and be smoothed out as necessary. The product must be installed with the red side uppermost. Subsequent rolls should then be lapped onto the previous roll by 150mm, and be sealed using Seal Tape placed centrally in the lap. Lap Tape should then be laid over the edge of the upper sheet, by 50mm, and be adhered down onto the lower sheet. Pipe penetrations should be sealed using Preformed Pipe Collars; sealed to the membrane, and pipe using Seal Tape and Lap Tape. Sheetseal 9000 DPC should be used to provide continuity through the walls, with DPM Red lapped and sealed onto it as required. Damaged areas should be patch repaired as necessary, using similar lapping/sealing details.
SAFETY
Full health and safety instructions are contained on the product material safety data sheets, and these must be referred to before use.
SUPPLY
AVAILABILITY
All RIW products can be obtained through Builders Merchants or approved stockists. A list of approved stockists is available from RIW's offices.
PACKAGING
DPM Red 3m wide x 50m long rolls
Seal Tape 50mm wide x 30m long rolls
Lap Tape 100mm wide x 50m long rolls
Pipe collars (supplied with Jubilee clip) 110mm diameter / 130mm diameter / 160mm diameter
STORAGE
The rolls must be stacked on a flat surface, kept under cover and protected from sunlight and mechanical damage.
TECHNICAL SERVICES
The RIW Technical Department is available to advise on individual projects and to prepare or assist in the preparation of specifications and drawings. A list of experienced applicators of RIW materials is available from RIW's offices.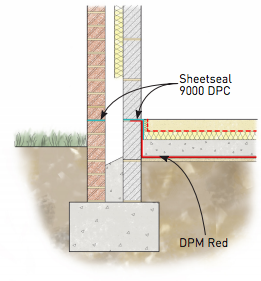 Download
Click here to download this information in PDF format.